Rainbow Continuous Prime Pumping Units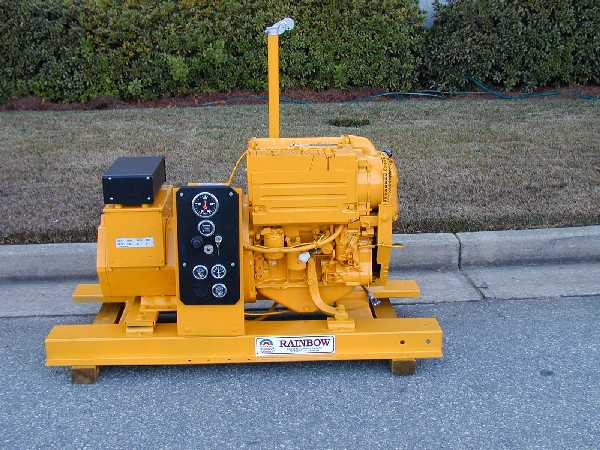 Irrigation Generator Sets
Rainbow's thirty + years of pumping experience has resulted in the introduction of the "RAINBOW R-PRIME SERIES PUMPING UNITS." We are now offering a complete line of automatic self-priming pumps available for use in all of your dewatering, slurry, and land application needs.
So for your next and future pumping unit, go with the combination of knowledge that has resulted in quality and service for over thirty years. RAINBOW MANUFACTURING COMPANY wants to be the name you know and trust for all your pumping needs.
Are you looking for a Self Priming Pump? Rainbow Manufacturing Company offers a variety of Self Priming Water Pumps, Self Priming Centrifugal Pumps, and also a Small Self Priming Pumps. For more information on a Self Priming Pump contact Rainbow Manufacturing Company.
Download Deere Power Unit
Download Deere Power Unit2
Specifications
Flow Rates Up to 2000 GPM
Pressure Range up to 130 PSI
Grade 30 Grey Cast Iron Pump
Main Frame: One Piece Precision Machined Grey Cast Iron
Wear Rings: Replaceable Nickel/Bronze Alloy
Volute: Precision Machined Grey Cast Iron can be rotated in increments of 45 Deg. for different discharge positions
Shaft Seals: Both Packing Box and Mechanical Seal
Close-Coupled Electric Motor Drive Mounting
Features
Rainbow Cast Iron Centrifugal Pump with 5-year warranty.
Nema Standard U.S. Motors or Marathon electric motors.
Pump Control Panels available for Across the Line or Part Wind Starting.
Available in Open Drip Proof or Totally Enclosed Fan Cooled.
Easily Serviced and Maintained.
Impeller keyed to Shaft and Balanced to eliminate vibration and provide smooth, quiet operation.